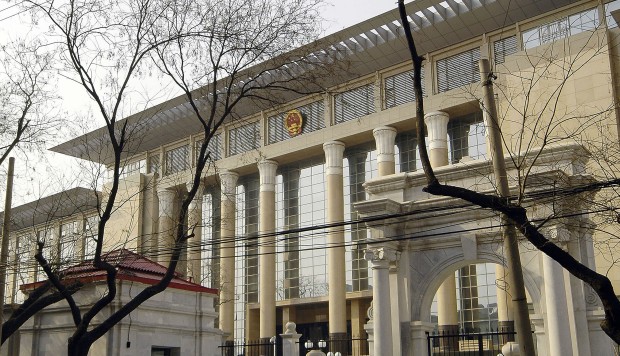 China has made blockchain records admissible in court as authorities step up measures to handle internet-related legal disputes.
The country's Supreme People's Court released rules last Friday clarifying the litigation procedures for courts newly formed to specialise in internet-related cases. A section of the document stated that the so-called internet courts shall recognise digital data as evidence if they are verified by methods including digital signatures, timestamps and blockchains. The new rules have come into effect immediately.
China set up its first internet court in the e-commerce hub of Hangzhou in August 2017, which has so far handled more than 10,000 internet-related disputes in everything from lending to defamation to domain names. In a first in the country, the court ruled in a copyright infringement case in June that evidence authenticated with blockchain is legally binding.
Blockchain is a form of distributed ledger that creates an online database where all participants can share and store records of transactions. Aside from its initial applications in cryptocurrencies such as bitcoin, some other popular use cases of this technology include supply chains, accounting and gaming assets.
Is China intensifying its crackdown on cryptocurrencies?
While courts traditionally depend on third-party notary organisations to authenticate evidence, blockchain as a new method of verifying evidence is "secured, efficient, convenient and low in cost," Zhang Yanlai, a patent lawyer with Hangzhou-based Zhejiang Kending Law Office, said in a recent blog post.
China is not the first to accept blockchain records as legal evidence. In 2016, the US state of Vermont passed a law to welcome the use of blockchain data in the courtroom.
China has been pushing the adoption of blockchain. The technology got a mention in 2016 in the country's latest five-year plan, and the local governments of major cities including Shanghai, Guangzhou and Hangzhou have all issued policies to encourage blockchain development. That is despite the country's crackdown on cryptocurrency trading amid concerns of financial instability.
China opened its second internet court in Beijing on Sunday, and is planning to open a third one in the southern city of Guangzhou this month. Proceedings of each case handled by these courts – from lawsuit filing to verdict announcement – will be made available online. Litigants are required to attend the hearings via online video streaming.